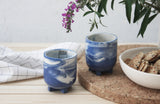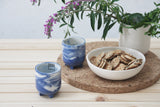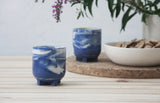 
PLUS - Ceramic espresso cup in blue marbled.
$20.00 USD
Ceramic espresso cup in blue and white marbled pattern. The bottom cup has a Plus leg shape.The plus gives the cup a unique and modern look. Makes a great gift for coffee lovers.
The cup is made in slip casting technique. Each cup is treated separately and burned to high temperature. Each cup gets colored separately, so there is a difference between the cups. This technique produces a unique style and visual differences like you can see in the picture. No cup resembles to another. So please be note that the cup you get will be a little different from the one in the picture.
--------------
approximate size:
2.3" W x 3.1" H | 6 cm W x 8 cm H
Capacity of 100 ml

.